Growing Hardy Perennials in comparison to annuals, shrubs or trees is relatively easy! Once established herbaceous perennials will multiply quickly, division will help keep plants fresh, vigorous and disease free.
Tough and robust flowering herbaceous plants will grow with very little attention and yet still put on their seasonal floral display that outshines their woody counterparts.
Herbaceous perennials have a dormant season where all the energy is stored below ground to prepare for the next season, often performing this ritual for many years.
Fortunately for the avid Gardener, herbaceous perennials are readily available in a such a diverse range of size, colour and textures that when creating a herbaceous border for yourselves you will literally be spoilt for choice.
There is a perennial for every landscape, even if your soil is dry there are silver leaved herbaceous perennials that one established will tolerate this arid environment. Wet damp conditions are also well provided for with a range of waterside herbaceous perennials that will flourish.
Once you have established your chosen herbaceous perennials for both your weather and soil conditions, ground preparation is key to getting your plants off to the best possible start. Putting time and effort in to learning "How to prepare Garden Borders for  Planting".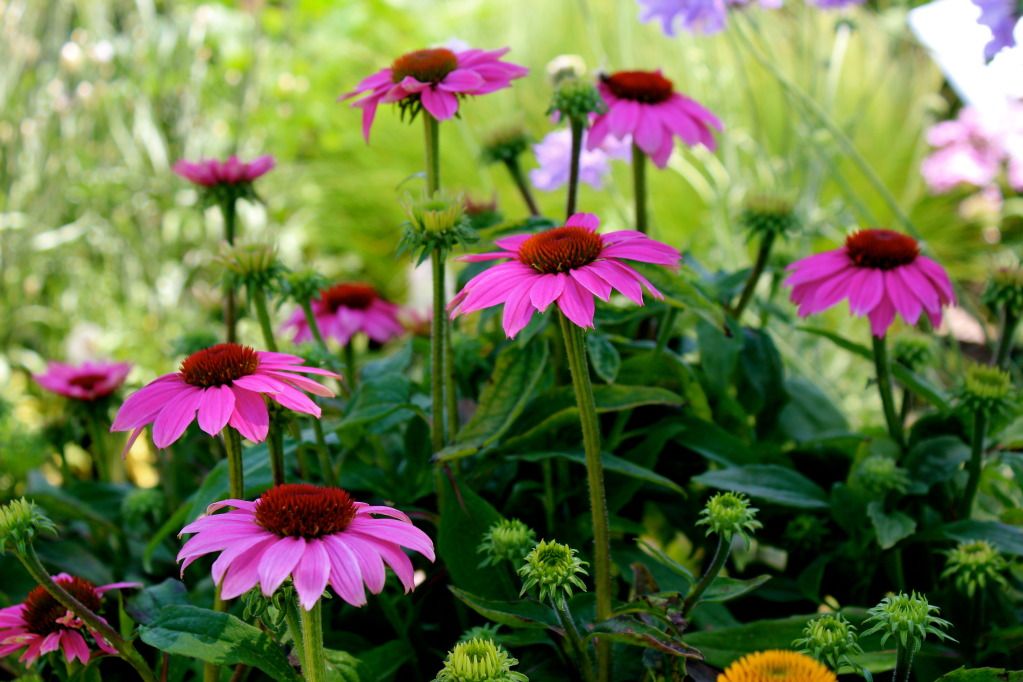 Herbaceous perennials require little or no maintenance, the occasional weeding around, deadheading and every few years dividing of the clump forming root system.
Rejuvenating your flowering herbaceous perennials is an essential routine especially for fast growing perennials that quickly develop an extensive root system that after a few years can become hard and woody. Perennials like Rudbeckia, Echinacea, Geraniums and Polygonum pictured in the scheme above all respond well to division.
This hardening of the root system often causes the centre of the clump to deteriorate as new shoots and roots search for nutrient soil away from the original plant. Giving the keen, thrifty gardener an opportunity to grow new plants from these vigour us crawling root systems and learn How to Multiply with Division.